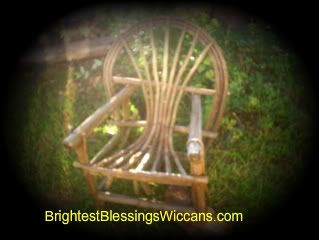 Today is Monday, August 24, 2009. It is a beautiful day, the sun is shining and very bright outside. Cooler this morning, it is suppose to get to 93 degrees, but I don't think that is going to happen.
This was a chair that my mom rescued from a burn pile this weekend. Isn't she a beauty? Mom said I knew you would want it. A little fixing here and there and it is going to become my new chair. I just love these old chairs. Folks use to make items with such pride, their items lasted forever. Now everything seems to be
disposable
.
Had a great weekend, nice weather and cooking outdoors. Didn't spend to much time indoors. Went to see my mom yesterday that is always a nice visit. She loves football and the season is here. She wants to visit, but can't seem to take her eyes off of the television.
Today is work in my room day. All chores are done and it is time to get organized in that room. Packages are ready to go, son is taking them to the Post Office and the house is quiet. Now is the time to get things moving in a forward direction.
Colors for the week:
Monday Silver
Tuesday Gray
Wednesday Topaz
Thursday White
Friday Rose
Saturday Blue
Sunday Orange
Have a happy, healthy, productive day! ~
Brightest Blessings
~