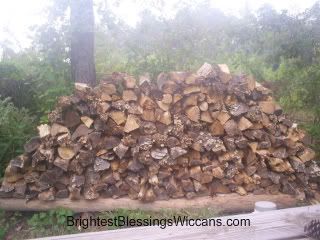 Today is Saturday, August 15, 2009. It looks like we have a few storms brewing out there. So needless to say, it has been cloudy and rainy again this morning.
We did get a start on the wood yesterday and will continue to split the rest of it today. Then to finish cutting the long ones into smaller ones to split for the fireplace. If it doesn't rain, then on to cutting the lawn and raking up the chips to use for the grill or to start the fireplace.
Have to go and get gas just in case we have to fire up the generator. The last time we had storms rolling through and lost power for almost a week. The only real problem there is no water. No electric, no pump, no water, no shower. I can live without a lot of things, but the shower isn't one of them.
If the rain comes in to bad, I will work on projects inside. Maybe go get groceries. Not a favorite job. No matter what the weather turns out today, things will continue to get done.
Have a happy, healthy, productive day! Enjoy your family and the final days of summer. ~
Brightest Blessings
~