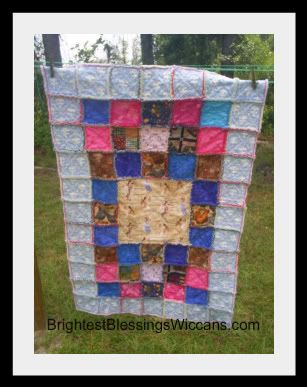 Today is Wednesday, August 12, 2009. Another gorgeous day! Ninety-two degrees and a slight breeze. Yes! Monday was a productive day!
Finished Moms lap quilt, the two altar cloths, cut fabric for another four cloths and 2 more drawstring bags are finished. Now to get the clay out and make the incense burners for the kits to get them put together and listed.
Moms Quilt she got her angels. And of course blue.

I will have to retake these pictures of these drawstring bags. The pictures are just not showing the true color. It is a satin material the is a very deep purple and changes colors in the light. Will be working on that tomorrow. Oh, how I love trying to get the right angles and light to take pictures. LOL


Maybe if I try it with a white back ground? Maybe not, it is just a trial and error with me and taking pictures. grrrrr
This is one of the altar cloths that are finished. See how the white with the gold stars just got so bright that it makes the picture look really bad. So this is another one that I will be working on. There is no flash, I usually take my pictures outside. Maybe tomorrow will be a better day for taking pictures.
We had a storm again last night that came out of no where. My pool looked like a pine forest when it was all over. So had to get that cleaned out today. I love that chore cleaning the pool.
Hope that your week is going great and you are getting all of those things that you are trying to get done and caught up on. Have a happy, healthy, productive day! ~
Brightest Blessings
~