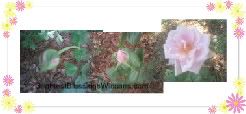 Today is Saturday, August 29, 2009. It was a beautiful day, the sun shinned all day and not a drop of rain. However it went entirely to fast. It is already eleven o'clock and I haven't gotten nearly the things I wanted to get done today done. The rose bud I discovered Thursday, this is the bloom today. Nature rocks!
Got the laundry started early, wasn't taking any chances of afternoon storms rolling in this afternoon. Worked on getting the pool cleaned out, hubby helped with this chore. If that is what
you want to call it. The rain really does a number on it. Got groceries and this I do consider a real chore.
Finished four altar kits and five more drawstring bags. Have not gotten pictures taken or listed yet, however they are ready to do tomorrow. Then I made homemade ranch dressing with a recipe from
Living the Frugal Life Blog
. It was very easy and oohhh it is very good. She also has an instant cobbler topping recipe that I made a batch of and is now put up. It is also very good and very quick to make. Gotta love that!
Tomorrow I will start a project that I got from
Confessions of a Kitchen Witch Blog
. It will take time for the drying or baking process so it isn't like I won't be able to do anything else. I am excited about this one. It is an Apple Craft wreath and I am going to make a stacker for my mom. If they turn out the way I think they will, this will be one of my favorite fall projects.
Fall seems to bring so many beautiful colors and scents with it. It is cooler and the windows are open, the scents of outdoors and the scents of backing indoors are always welcome. The sounds of the crisp fallen leaves and the wind. I love the sound of the wind so peaceful. Fall has a way of renewing all of your senses and your energy.
I will miss summer, however I will welcome all of the beauty that fall has to offer and enjoy every minute of it.
I truly hope that everyone is enjoying their weekend and the summer days that we have left. Remember yesterday, dream about tomorrow, but live today! ~
Brightest Blessings
~