Today is Monday, June 8, 2009. Another cloudy day, the sun does peak through once in a while. This is the
stag horn
fern that we had taken apart to place on other trees and into a few baskets. We gave a couple away and the folks were thrilled with them. They don't require to much to
maintain
and are so pretty.
Working on expanding into another area for my business and am very excited about it. This area will be offered on my web site
BrightestBlessings
. I have been playing with the idea for a couple of weeks now and am ready to get to work on it. Will fill you in later with more details.
This is the fourth tote "
Purple Daisy's
" that I finished. It measures 12 1/2" x 9" with a 4" gusset. The straps are 2 1/4" with a 13 12" drop.
Miss Bettye
did a super job on the matching ceramic button cover. It can and should be removed before machine washing and drying. It has one outside pocket and 3 pockets on the inside. It has purple daisy's and other purple flowers and vines.
Full View Front
Back Side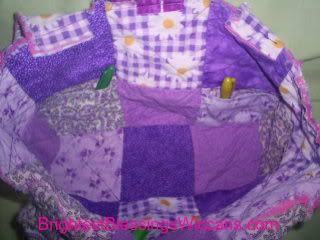 Inside Showing 4 Pockets

Have to get going to the post office to ship out orders and then get to work on my new project.
Colors for the week:
Monday Gray
Tuesday White
Wednesday Yellow
Thursday Green
Friday Pink
Saturday Black
Sunday Amber
Have a happy, healthy, productive day! Remember to take some me time and enjoy the outdoors.
Brightest Blessings
!