Today is Thursday, August 6, 2009. A beautiful morning today, but supposed to be afternoon showers again today. Has been a very busy last few days! However very productive. This is a picture of a caterpillar that I took while mowing the yard. I have never seen one this big or color. The little horn things are soft, just had to share this one. Then had to move him out of the way.
I did get 7 drawstring bags finished and pictures taken. Now just to get them listed. LOL That is not my favorite thing to do. These are just a couple of them.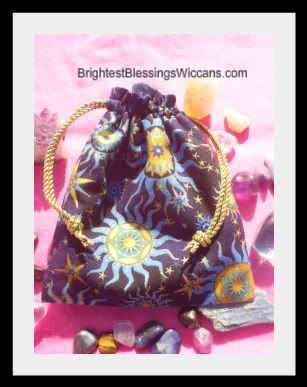 I also completed a couple of Altar clothes that I also need to get listed. Have a couple of more started just not finished.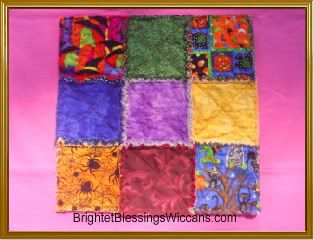 My lap rag quilt for mom is all but done! All that I need to do now is sit long enough to clip and wash it. I do believe that she will like it. It has lots of her favorite things. If it rains this afternoon I will sit and clip it, if not to the pool.
I have been so spoiled with summer. We have cooked outside and ate outside most of it. The pool has been wonderful and line drying the clothes is just awesome. This past few days, we have had rain in the afternoon, so everything outside has come inside. Talk about whining......
Hope that you too are enjoying your summer, get outside and have fun the kids will follow, great family time and very well spent! Have a happy, healthy, productive day!
Brightest Blessings!